TPS Quality Assurance Program
TPS continually strives to improve its Quality Assurance Program. Our well-defined and controlled processes of quoting, contract review, purchasing, receiving, inspection, processing, packaging, shipping, and inventory control combined with qualified and experienced personnel make it possible to meet or exceed customer requirements.
In addition, TPS performs designated source inspections for Boeing Mesa, Bombardier, Mitsubishi Heavy Industries,  Nabtesco, and Sikorsky to ensure customer needs.
TPS Aviation utilizes inspection equipment such as Keyence, optical comparator, RW Hardness, Dino Cam, System 23, ESD workstations, and anti-static work stations for its inspection activities.
Certifications and Technical Assistance
TPS is committed to providing excellent customer service and quality products to the utmost satisfaction of its worldwide customer base of both commercial and military sectors. TPS is certified to ISO9001, AS9100 and various customer quality standards and requirements.
All aviation parts and components (with accompanying documents) are inspected to ensure they meet all specified requirements. Product quality and traceability is maintained through the inspection and stocking processes while rejected parts are segregated and disposed of according to standard industry guidelines.
Certificates
Government Department and Agency Licenses
United States Department of State
United States Department of Commerce
Ministry of Defense, Japan
TPS meets all regulatory requirements including DFAR, Counterfeit prevention, Conflict minerals, and REACH.
Supplier Quality Requirements
Industry Service Recognitions and Awards
ALLFAST Fastening Systems
1998
The Boeing Company
2011
Bombardier Aerospace
Defense Supply Center — Columbus
2004, 2005, 2006
Defense Supply Center — Richmond
2002, 2004
Vice Admiral Yoshinori Kawano, Commander Maritime Material Command
2007
Lockheed Martin Aeronautics Company
2010
Communication Equipment Works, Kenzo Tsukada, General Manager
1993
Mitsubishi Heavy Industries Ltd.
2007
Northrop Grumman
1998
Shur-Lok
1996, 1997, 1998
Teledyne Ryan Aeronautical
B&B Specialties, Inc.
2010, 2011, 2012, 2021
The Boeing Company
2008, 2010, 2011, 2012, 2014
Defense Logistics Agency — Land and Maritime
2010, 2012
Defense Supply Center — Columbus
2007
Vice Admiral Hitashi Murakami, Commander Maritime Material Command
2005
Vice Admiral K. Izumo, JMSDF Commander Supply Control Command
2019
Lockheed Martin Aeronautics Company
1998
Nakamura Works, Naoki Hashimoto, General Manager
1991, 1992
MS Aerospace
2006
Raytheon Missile Systems
2011, 2012
Shur-Lok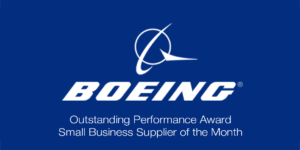 Boeing Defense & Space Group
February 2011
The Boeing Company
2011
Defense Logistics Agency — Land and Maritime
2011
Defense Supply Center — Columbus
2003
Vice Admiral Morifumi Takeda, Commander Maritime Material Command
2000
Gifu Aircraft Division, Hiroshi Tojyo
1998
Mitsubishi Electric
2008, 2009, 2010, 2011, 2015
Mitsubishi Electric
2003
NASA/The Boeing Company
U.S. Small Business Administration
1998
Sikorsky
2018